Words of Wonders
Approved for all ages
Words of Wonders - word game and world tour in one!
Words of Wonders is an entertaining word game in which you can combine individual letters to form words!
Become a word acrobat and connect single letters to whole words in a language of your choice. Use your vocabulary and quick thinking skills to fill in all the fields of the crossword puzzle. In over 500 levels you can train your brain with ever new letter combinations. Travel around the world and collect pictures of famous buildings like the Pyramids of Giza or the Great Sphinx in Egypt.
Controls: Play with your finger or mouse. Click on the first letter and hold it down. Then move your mouse or finger to the next letter to write the word. In the upper part of the game field you will see the grid of a crossword puzzle, which you have to fill with the words you are looking for. This will give you an indication of how long the words must be.
You'll also have power-ups at your disposal, which will give you individual letters or with which you can shuffle. With the hammer you determine on which field a clue appears. The light bulb displays it randomly. You can buy both power-ups with earned gems.
More exciting word games 
If you liked Words of Wonders, try Wordle or Text Twist 2.
Travel around the world now and solve tricky word puzzles! Play Words of Wonders free online on KibaGames!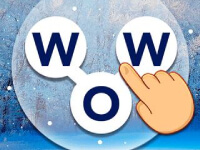 Words of Wonders
Originalname:
Game Hits:
0
Online since:
05.
03. 2023
Developer: