Wordle
Approved for all ages
Wordle - guess a new word every day!
Wordle is a trendy word game in which you can guess a new five-letter word every day.
Brain training at its best! Wordle inspires every day many new fans of word games, who like to solve puzzles or crosswords.
Play Wordle on Kibagames and post your successes on Instagram or Twitter and show your friends that you master the daily challenges with flying colors!
How to play Wordle
The gameplay is simple and incredibly popular. Every day, guess a new five-letter English word. Use the keyboard below the puzzle field. As soon as you have finished writing the word, press the Enter button to confirm it.
Colors will show you how many letters you got right:
Green: the entered letter is included in the word and is in the right place.
Yellow: the letter is in the word, but in the wrong place
Grayed out: the letter does not appear at all.
You have six tries every day to get the right word in Wordle.
Tips and tricks for finding entertaining words
In the settings you can customize Wordle even more to your needs.
Sometimes, as a Wordle player, you type a word that does not contain a correct letter you already know, in order to check other letters for correctness.
However, if you are already a real Wordle pro, you can use the option to increase the difficulty level in the settings. All hints must then be taken into account in all subsequent attempts.
In the settings you can also switch from light to dark color background or adjust the colors to color blindness. This makes Wordle even more inclusive and playable for more children and adults.
More interesting word games for daily guessing fun
If you like Wordle, try playing Text Twist 2 and the Microsoft Ultimate Word Games.
Join the huge Wordle fan base and play Wordle online for free on Kibagames!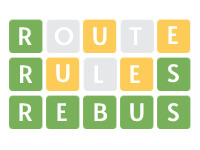 Wordle
Originalname:
Game Hits:
3.821
Online since:
21.
01. 2022
Developer: