Wizard School
Approved for Ages 6+
Wizard School - manage a school for magic and wizardry!
Wizard School is a fantastic idle game in which you'll be able to build and manage a school for witches and wizards.
This school is very special, because it trains girls and boys to become witches and wizards! But of course, the lessons and the construction must be financed. Earn money, gems and magical flowers with good lessons and completing tasks.
Also monster fights and collecting holy water from the magic well will bring you the necessary resources, which you should use strategically. Also harvest the magic tree and don't miss the regular magical gifts!
How to play Wizard School
The gifted students are greeted by a goblin butler at the entrance and undergo their transformation into wizard students in the magical converter. Then build different classrooms for the lessons and keep leveling them up.
Start with the basics of magic. Spells and potions in the Herbarium are next on the curriculum.
Keep building new classrooms and lounges for the Wizard School and periodically add new seats to them. This way you can have more wizard students training and learning at once. Only satisfied students will bring you profits and who likes to wait a long time for the eagerly awaited lessons?
Of course, you can also equip the rooms with better teaching aids and speed up and improve the lessons. To do this, upgrade the levels of the rooms, the speed of the teachers and the equipment.
Mysterious powers also improve student traits like intelligence and skill at waving a wand and broom.
Check the scroll with tasks regularly and collect your rewards.
Tips and tricks for magical achievements
Be strategic and wise in your approach and manage your resources and time well. For two hours, the college can also work offline and earn money.
After you can successfully provide basic training, the Ministry of Magic will allow you to teach advanced students as well, using boosters.
The magic machine can further increase the skills of the students, they will also bring in even better earnings.
Upgrade student types as well. Senior students, for example, no longer need basic lessons and get to graduation faster, for which you get money.
More free management games for you
If you liked Wizard School, why not play idle and clicker games like Tropical Merge or Idle Arks: Sail and Build.
Play the online game of the app Idle Magic School now for free and without download! Wave your magic wand and play Wizard School online for free on KibaGames!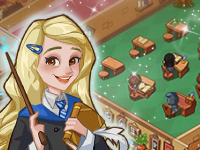 Wizard School
Originalname:
Game Hits:
0
Online since:
24.
06. 2022
Developer: