Idle Arks: Sail And Build
Approved for all ages
Idle Arks: Sail And Build - where will your journey take you?
Idle Arks: Sail And Build is an exciting idle game in which your task is to build an ark and rescue people and animals!
The world is flooded, but you managed to save yourself on a small raft and are floating on the sea. Luckily, lots of wood floats by, which you can collect with a click to expand your raft. Use the "Build" mode or click on the light blue dots to add more platforms or build new elements like furniture or sails. They give you a bonus on your wood yield. Treasure chests can be opened with diamonds, which you get when you achieve certain achievements, for example. On your way, rescue other castaways that will help you with your tasks. You can also collect animals that will give you a bonus.
When you have completely upgraded your raft to a functional ship, your small crew can sail to new areas to start the next level. Here you start with a small raft again, but keep your team so you can build a bigger and better boat faster. Will you manage to save everyone with your ark?
Start an exciting idle adventure on the high seas now and play Idle Arks: Sail And Build free online on KibaGames!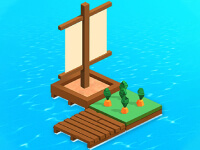 Idle Arks: Sail And Build
Originalname:
Game Hits:
1.116
Online since:
28.
09. 2021
Developer: