Tropical Merge
Approved for all ages
Tropical Merge - manage a tropical island!
Tropical Merge is an extensive new merge game where you can manage a tropical island and save the family farm.
Build a beautiful tropical farm on a warm South Sea island and help Sarah rebuild the family business. She wants to follow in the footsteps of her missing grandfather and is accompanied by her uncle Roger.
Now complete lots of quests to get the island back in shape, find more employees and also solve the mystery of grandpa's disappearance. Valuable amulets seem to have been especially precious to him and you can collect them during the game too!
How to play Tropical Merge
The game principle is easy to understand: Merge three of the same objects over and over again to create an even better and more valuable object.
Grow agricultural products on your farm, for example by cutting the grass or planting small seedlings.
You can then merge hay and seedlings with three each to create a higher value product. Hay becomes bundles of hay, which then become bales of hay, calves, mother cows with calves, and soon an entire creel full of cows giving milk. In addition to livestock, you will certainly soon be able to keep poultry.
The same principle applies to plants: seedlings become fruit trees that bear fruit such as bananas or oranges.
And you can also merge tools to work even better and clear the thickets of the tropical island.
For the storage of your crops you can gradually unlock sheds and barns.
What will await you on the other parts of the island? Lots of other buildings seem to peek out from under the jungle and you will surely be able to plant more profitable orchards. A little help is needed: look for nice friends!
Tips and tricks for a successful tropical farm
Tropical Merge is not only about merging and harvesting, you can also trade goods and play the online game as an economic simulation.
Sell your produce on the commodity exchange to collect more coins and diamonds. With these and the energy you can further manage the farm and accelerate processes.
In the resource store you can buy more resources and achieve faster success.
Complete various quests, which you can see in the quest book on the left, and gradually unlock more levels and island parts.
Buy treasure chests and gift boxes to gain more fruits and plants, as well as coins and tools. Also watch out for the free gifts that float up to balloons and click on them to collect them.
And every object you unlock you also get coins that you can claim in the main menu.
More free merge games full of adventure
If you liked Tropical Merge, then play The Mergest Kingdom and Merge Cannon: Chicken Defense.
Can you make the island paradise bloom again? Experience new challenges, get daily rewards and play Tropical Merge online for free at Kibagames!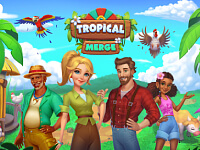 Tropical Merge
Originalname:
Game Hits:
3.706
Online since:
26.
11. 2021
Developer: