Water Coaster
Approved for Ages 6+
Water Coaster - Get the swimming hoops to the finish!
Water Coaster is a cool reaction game in which you can slide to the finish line with the longest possible line of swimming hoops.
Water slides are fun and it's fun to share with others. Slide down the spectacular water slides on your floaty tyre and collect other water park visitors along the way.
Controls: Use your mouse or finger to play. Press to slide and release the left mouse button or finger to stop.
But beware, there are also numerous obstacles in your way! Dodge blocks that shoot onto the track as well as a giant football, a propeller and much more. Show that you can react particularly quickly and make sure that the characters in their floaties don't get thrown out of the water slide in particularly tight turns. From time to time you will also be accelerated in the water. But with the right timing and a little patience, you can safely reach the end of the water slide. When you have succeeded in pulling many other visitors along and you have arrived at the final swimming pool, you can immediately start the next level.
Other interesting roller coaster games
If you liked Water Coaster, why not also play Roller Coaster and Roller Coaster Rush?
And now let's get into the cool water! Play Water Coaster free online on KibaGames!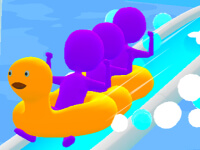 Water Coaster
Originalname:
Game Hits:
0
Online since:
29.
11. 2022
Developer: