Rollercoaster Rush
Approved for Ages 6+
Rollercoaster Rush - make the best loops!
Rollercoaster Rush is a fast-paced racing game in which you'll be able to drive your own roller coaster.
Become the best roller coaster operator in the USA and offer your passengers an unforgettable ride experience. At the same time, make sure they get to their destination safely. Collect numerous stars with your driving skills over hills and through valleys and unlock a new track after every three stars.
A total of fifteen different roller coasters are available to you. Play through Freedom Flight, Fast Track, Rock and Roll and pick up some serious speed. Do the most exciting flips and loops and let your passengers scream with joy!
How to play Rollercoaster Rush
Steer the roller coaster cars safely over the track and avoid a crash. Watch out for the yellow icons under the track - they will show you what kind of track part is coming next. Adjust your speed to it.
Rollercoaster Rush is very easy to control:
Accelerate: Arrow to the right
Braking: Arrow to the left
Make the passengers happy by performing daredevil maneuvers, but be careful that the cars don't go off the track and your passengers have to save themselves with their parachutes.
Tips and tricks for happy passengers and lots of points
Special stunts will earn you an award and thus extra points:
Complete a lap without braking.
Drive at top speed.
Perform a daredevil high jump.
Let the roller coaster fly for an unusually long time.
Use the G-forces to their fullest.
More fast online games with roller coasters
If you like Rollercoaster Rush, why don't you play Roller Coaster?
And now get on the gas and brake! Play Roller Coaster Adventure free online on KibaGames!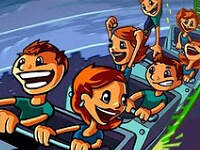 Rollercoaster Rush
Originalname:
Game Hits:
2.443
Online since:
04.
01. 2019
Developer: