Roller Coaster
Approved for Ages 12+
Roller Coaster - a fast-paced roller coaster ride!
Roller Coaster is a cool fungame in which you can bring the passengers of a roller coaster safely to the finish line!
We like roller coasters - do you? Especially if they are like this fast-paced roller coaster! Get your passengers safely to their destination by guiding the roller coaster gondola to the left, right or center past all sorts of obstacles like bombs. Sometimes the roller coaster splits and you have to look carefully which way is best to go. One track is full of dangers and on other sections more passengers or money are waiting for you. You will always find them scattered around the track. Collect all the coins and bills to buy new skins for your passengers later.
Controls: You control the roller coaster with your mouse or swipe with your finger. Also feel free to use the A and D keys or the left and right arrow keys.
More fast skill games for your free time
If you liked Roller Coaster, why not play Uphill Rush 9?
Now let's go to the amusement park! Make sure you have lots of fun and action-packed rides and play Roller Coaster free online on KibaGames!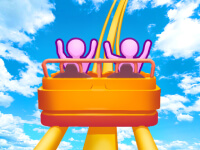 Roller Coaster
Originalname:
Game Hits:
0
Online since:
11.
10. 2022
Developer: