Uphill Rush 9
Approved for Ages 6+
Uphill Rush 9 - ride through 20 new levels!
Uphill Rush 9 is an exciting children's game in which you'll be able to ride horses and unicorns through new Wild West levels.
In the ninth installment of the popular game series, you'll have a stable full of mounts at your disposal, as well as other legendary Uphill Rush vehicles like cars or a surfboard.
Ride or drive them through 20 exciting levels and collect all the gold coins. Explore the world of the Wild West with its farms and gold rush towns and finish as fast as possible!
How to play Uphill Rush 9
Now get in the saddle - the controls are easy to learn!
Use the up arrow key to make your horse gallop forward.
Use the left and right arrow keys to balance your mount.
Use the down arrow key to rein the pony, horse or unicorn or brake the car.
Use the booster with the spacebar to get even faster.
Collect the golden coins and scare away all the chickens on the track.
You also get coins when you perform stunts and earn up to three stars.
Tips and tricks - train and upgrade your horses
Start with the cowboy and soon unlock new game characters. In addition, it is important that you keep training your horses with the coins you win and upgrade their abilities.
A total of 34 horses or other Uphill Rush vehicles await you.
Improve their abilities in terms of speed, balance, boosters and acceleration.
Unlock 50 different costumes for even more fun.
More free skill games from the Uphill Rush series.
If you liked Uphill Rush 9, why not play Uphill Rush 8 or Uphill Rush 7: Water Park.
Now get on your horse! Gallop across the finish line in no time and play Uphill Rush 9 free online on KibaGames!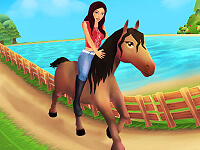 Uphill Rush 9
Originalname:
Game Hits:
1
Online since:
23.
02. 2022
Developer: