Uphill Rush 12
Approved for Ages 6+
Uphill Rush 12 - New loops are waiting for you!
Uphill Rush 12 is a fast-paced new racing game where you have to get to the finish line as fast as possible with your car, motorcycle, skateboard or horse!
To set a new speed record, you don't necessarily have to drive or ride over roads! Race over hills, do loops and jump into the pool to get to the finish line as fast as possible. Choose a driver and a vehicle or means of transportation of your choice. Even a unicorn, a Vespa or a hovercraft can be found in the selection!
The control is done with the arrow keys. Collect coins, race around the track and perform jumping tricks to earn even more points! Be careful not to land on your head, because then you'll have to start all over again. Also, use your nitro from time to time on the climbs so you don't lose speed. You can use the coins you collect to unlock new characters and vehicles.
More side scroller games for you
If you liked Uphill Rush 12, you should also play its predecessor, Uphill Rush 11.
This roller coaster has it all! Here we go! Show us your best stunts again and play Uphill Rush 12 free online on KibaGames!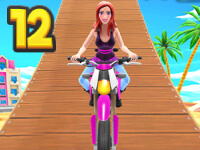 Uphill Rush 12
Originalname:
Game Hits:
0
Online since:
03.
03. 2023
Developer: