The Smurfs: Skate Rush
Approved for Ages 6+
The Smurfs: Skate Rush - escape on a skateboard!
The Smurfs: Skate Rush is an exciting endless runner in which you can escape with the Smurfs from the evil wizard Gargamel and his cat.
Gargamel is attacking the Smurf village and Azrael, his orange cat, is chasing the Smurfs! They now have no choice but to grab a skateboard and escape from the cat as fast and as far as possible. Find the magic portal to the next level. In the process, you and your skater Smurfs will face all sorts of obstacles. Dodge crates or Smurfs in small cars that drive towards you or jump on elevated platforms. During your escape, you can collect berries that you can later use to modify your skateboard. Also, over time you can unlock other Smurf riders like Papa Smurf, Hefty or Smurfette. Use the chance to fulfill missions, for which you'll in turn get prizes like berries.
Control: with the mouse, arrow keys or finger.
More exciting Smurf games
If you liked The Smurfs: Skate Rush, then play The Smurfs: Village Cleaning or The Smurfs: Ocean Clean Up.
Can the Smurfs escape from Azrael? Show off your best stunts now and play The Smurfs: Skate Rush free online on KibaGames!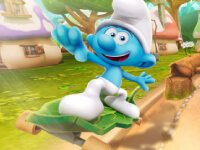 The Smurfs: Skate Rush
Originalname:
Game Hits:
0
Online since:
24.
10. 2022
Developer: