The Smurfs Ocean Cleanup
Approved for all ages
The Smurfs: Ocean Cleanup - fish the garbage out of the sea!    
The Smurfs: Ocean Cleanup is a cool children's game in which you'll be able to fish lots of trash out of the sea and save the fish from pollution!    
The evil warlock Gargamel has come up with a new nasty action to harm the Smurfs and their animal friends: he is dumping garbage into the sea, polluting the habitat of numerous underwater animals and plants. Don't let him get away with this and clean up the trash in numerous levels by letting your Smurf cast a fishing rod and fish the trash out of the water. Click on the fishing indicator when it's green to cast the fishing hook optimally. Swipe or move the fishing rod back and forth with the mouse to collect as much trash as possible.     
Different things will earn you different amounts of coins, which you can then invest in upgrades to your rod.  Below, you can level up its two properties: the depth it reaches in meters and the amount of trash it can pull out of the water.     
Reach the level goals quickly and keep the habitat clean!    
Additional tip: also keep an eye out for the coveted treasures to add to your treasure collection and attach stickers of Smurfs, Smurfette, Gargamel or Puss Azrael to your boat.     
Come on, let's do something good for the environment! Don't miss this new fishing game with the Smurfs and play The Smurfs: Ocean Cleanup free online on Kibagames!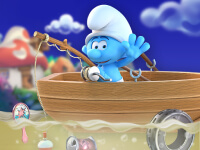 The Smurfs Ocean Cleanup
Originalname:
Game Hits:
146
Online since:
29.
10. 2021
Developer: