The Smurfs: Cooking
Approved for all ages
The Smurfs: Cooking - Cook for all of Smurfville!
The Smurfs: Cooking is a fun cooking game in which you'll be able to serve delicious food and drinks from the food truck during a big Smurf festival!
The Smurfs are planning a Smurftastic festival during which there will be lots of cupcakes, donuts and cakes! The treats will also be decorated with icing or jam. In addition, there will be tea or juice and much more. Torti, the cooking smurf, is of course responsible. And he has his hands full, because he has to take the Smurfs' orders and fulfill their wishes as quickly as possible. Serve the Smurfs at your stand together with Torti exactly the dishes and drinks they want and prepare and serve the orders in the best possible order.
The Smurfs' wishes are shown in speech bubbles. There you can also see how much time you have to fulfill each wish. Before each level you can see how many dishes you have to cook or how many smurf berries you have to get to complete the level successfully.
You will be paid with smurf berries depending on your level success. You can invest these in improvements to your food truck in the workshop of the Handy Smurf. Upgrade the snack bar, for example, so that it bakes and cooks faster or so that you have more plates available. Some improvements can only be unlocked when you reach a certain level.
More fun kids games with the Smurfs
If you liked The Smurfs: Cooking, why not also play The Smurfs: Skate Rush and The Smurfs: Village Cleaning
This party will be a great success! Cook and bake together with the little blue creatures now and play The Smurfs: Cooking free online on KibaGames!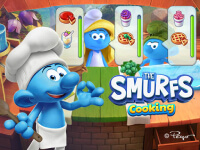 The Smurfs: Cooking
Originalname:
Game Hits:
0
Online since:
14.
12. 2022
Developer: