Tallman Run
Approved for Ages 6+
Tallman Run - become a giant runner!
Tallman Run is a cool fungame in which you'll be able to make a little man grow bigger and wider.
Just run with the Tallman and steer with the mouse or by swiping to the sides. On the race track in front of you, cross the gates that add height or width and avoid the ones that make the Tallman shrink. He can also lose height at obstacles. Run past them or use the jumping fields to jump over hurdles and even collect some diamonds. With these gems you can buy boosters or new skins and fun accessories before your next run. You can also buy headgear like a cap, crown or antlers. This makes the Tallman Run even more fun!
At the finish line, depending on the height and width of your character, you can earn extra points and maybe even reach the winning giant!
More free Hypercasual Games
If you liked Tallman Run, why not also play Dressing Up Rush and Money Rush?
Grow your character now and play Tallman Run free online on KibaGames!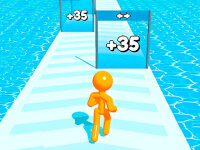 Tallman Run
Originalname:
Game Hits:
0
Online since:
30.
08. 2022
Developer: