Money Rush
Approved for all ages
Money Rush - the money is on the street!
Money Rush is a trendy fungame in which you can collect a lot of money on the course in front of you and increase it by clever calculation steps.
Your goal in Money Rush is to become really rich! To do this, collect the coins in front of you and run through the gates on the track that will increase your money. Choose the best mathematical options. Adding and multiplying will usually make you more money, unless you choose the x1 option or add zero. Dividing or subtracting naturally reduces your coin supply. Green goals usually give you opportunities to increase your money, red goals subtract something from your income.
Use your mouse or swipe to select the best goals and prove your math skills!
Tip: At the finish line, you can invest your earnings in stores that will generate new revenue. This is where Money Rush becomes an idle game!
If you like Money Rush, then play Dressing Up Rush and put together the right outfits while running!
Is your bank account already well filled? Start accumulating riches in this free online app game and play Money Rush free online on KibaGames!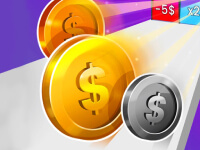 Money Rush
Originalname:
Game Hits:
0
Online since:
16.
08. 2022
Developer: