Dressing Up Rush
Approved for all ages
Dressing Up Rush - run to the right outfit!
Dressing Up Rush is a fun skill game in which you'll be able to collect clothes on a running track and put together the outfit you want.
Control with the mouse or by swiping left and right and make your model run along a long track full of clothes and accessories. Your goal is to wear the outfit shown at the beginning at the end of the run. To do this, aim for the right clothes, shoes and hairstyles and run through color and sample baths and past large spray bottles to catch the right shade. Skirt length is also crucial to score lots of points. In the end, the key is to get the closest possible match to the target. If the outfit deviates too much, you'll have to start the level over again. Don't miss the diamonds on the catwalk. You can use them to set up other game environments, such as a house and a garden, as well as an island and a wedding, which you can unlock in higher levels. 
 
In the special levels for this, you don't collect clothes, but furniture and other things. 
You want to win even more gems? Just come by every day and pick up the Dressing Up Rush your daily reward!
Don't miss the app game and play Dressing Up Rush online for free on KibaGames! Play online without download!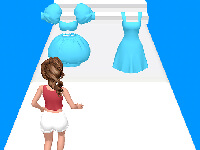 Dressing Up Rush
Originalname:
Game Hits:
0
Online since:
12.
07. 2022
Developer: