Slither.io
Approved for Ages 12+
Slither.io - experience endless fun in the land of colorful worms!
Slither.io is a cool multiplayer game in which you'll be able to become the biggest snake of all and eat your opponents!
If you liked Snake, you'll love Slither.io! This free online game from the category of multiplayer and arcade games combines the merits of these two gaming hits. The gameplay is very simple to understand and it's all about every animal's favorite pastime: eating!
The goal of the game is to pick up as many food particles as possible and become the longest snake in this free game. As a colorful glowing snake, you are always on the lookout for the next meal and make your way through the cool, dark colored game field. There's even a bit of a disco atmosphere here. The glowing dots that serve as your food come into their own here.
The snakes in Slither come in many beautiful colors. In total, Slither.io offers you 43 so-called Slither skins to choose from. From country flags to rainbows, there is something for every taste. Have you already admired the striped ones? Some snakes even laugh because they have so much fun roaming around!
Control and accelerate - this is how you play Slither.io
You control your snake in Slither.io with the mouse. Simply drag your snake across the playing field. You cannot stop it.
If you collect enough energy points, you can accelerate with the left mouse button and quickly escape from your fellow players. This requires skill and a good reaction, as you have already demonstrated in other games.
But be careful, in return for the higher speed, your size will also be reduced.
So use your boost wisely, e.g. in races with other players or to perform maneuvers in Slither.io that give you an advantage.
Take a hack with your boost and change direction in the race.
Or grab the kill points a big snake made while destroying another snake's body.
If you are still a small worm, the boost can be your weapon to succeed in the adventures in the snake pit.
Also, read through the following tips: Attention and good tactics always pay off!
Tips and tricks: how to outsmart your opponent in the game
These useful tips will help you in Slither.io. Unfortunately, when you bump into another snake, you dissolve into many small glowing dots and serve as food for your fellow snakes. These balls are usually larger than normal food and therefore earn you more points.
Use the slipstream: Hang out in the slipstream of an already large snake and grab the crumbs it hasn't eaten yet. It will be a feast!
Get in your opponent's way: If you've been hit yourself, then the next free game of Slither.io is already waiting for you. Or maybe you can get in the way of your opponent and destroy him.
Attract victims: Or you circle him after luring him with a few killpoints from your previous catch. Then it's time to strike and you can quickly eat up the new food particles before other fans and fellow players in Slither.io get wind of the matter.
More free arcade-style multiplayers
If you want to play more action-packed io games, we recommend Wormate.io or the classic Agar.io!
Are you ready for a round of fun and action with your snake? Then play Slither.io free online on KibaGames now!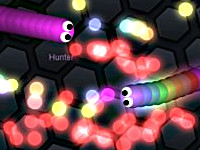 Slither.io
Originalname:
Game Hits:
22.042
Online since:
04.
05. 2016
Developer: