Real Football Challenge
Approved for all ages
Real Football Challenge - Show your penalty shooting skills!
Real Football Challenge is a new soccer game in which you'll be able to train penalty shootouts and then show your skills in competition.
Train and face new challenges all the time. First of all, play through whole moves in preparation to get the ball into the goal. At the beginning of your training, you stand alone in front of the goal and can practice shooting and aiming. Then you face a goalkeeper, whom you have to shoot past. Later, you will have a teammate on your side, to whom you should pass the ball so that he can score a goal. But your opponents are not only facing you and your victory with the goalkeeper, additional players will also appear on the field in the later levels.
Controls: You play with the mouse or your finger, which you can drag across the screen. A short line will appear to show you the direction and help you aim. Depending on how far back you drag the mouse, the strength and power of your shot changes. Then let go and your character will start the penalty shootout!
More sports games for ambitious kickers
If you like Real Football Challenge, why not play Euro Penalty Cup 2021?
And now get into your cleats! Play Real Football Challenge online for free on KibaGames!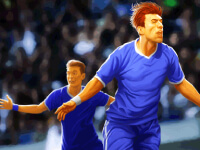 Real Football Challenge
Originalname:
Game Hits:
0
Online since:
11.
11. 2022
Developer: