Monster Rush
Approved for Ages 6+
Monster Rush - collect and train your Pokémon!
Monster Rush is an exciting arcade game in which you can run around a course, collect lots of Pokémon and let them fight against other mini monsters at the finish line.
Train your own monster! As a young, aspiring trainer, you'll have to overcome all sorts of obstacles on your long journey. Collect purple diamonds as currency on the track and take the red and white eggs as a container for your monsters. These are also waiting for you on your track. You need to collect enough jars so that you can also tame the monsters and they will join you. At first, catching only one monster is possible, but later you can tame two or more. If you already call a monster your partner, you can also collect Evolution Energy so that your Pokémon monster evolves. This is important because at the end of a round, you'll compete against other ambitious trainers in a Monster Fight. After gaining experience in the fights, you'll also have to face a boss. Hopefully your monsters are trained enough!
Controls: You control your character using the left mouse button, the arrow keys, the "A" and "D" keys and your finger. Dodge obstacles and always run through the right goals to achieve the best result for you and your team.
You can use the collected diamonds before a round to improve the strength of your monster.
More fast minigames for you
If you liked Monster Rush, why not play Money Rush and collect lots of money! 
On your mark, get set, go! Play Monster Rush online for free on KibaGames!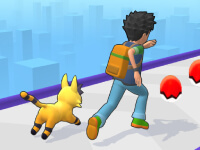 Monster Rush
Originalname:
Game Hits:
0
Online since:
18.
10. 2022
Developer: