Minigolf Tour
Approved for all ages
Minigolf Tour - swing the golf club on four great courses!
Minigolf Tour is an exciting sports game in which you can compete against four opponents on an extensive minigolf course.
Become a minigolf champion on four great 3D minigolf courses with 39 extensive levels! Control the golf club with the mouse or by swiping. You can adjust the direction and power of the shot. Just pay attention to the percentages or colors. Of course, you'll want to hit the hole in as few strokes as possible and be better than your competitors on the mini-golf tour!
So hit the golf ball skillfully over the course and face the round countdown when some of your opponents have already holed out. If you run out of time, you'll get the strokes of the worst player and two penalty strokes.
The further you get, the more challenging the golf course becomes, because you'll have to play over chasms and past obstacles.
Invest your winnings in new golf balls or clubs and don't miss the treasure chests with more free prizes.
How about the Wild West themed course or the classic windmill route? Swing the golf club now and play Minigolf Tour free online on Kibagames!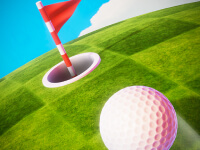 Minigolf Tour
Originalname:
Game Hits:
162
Online since:
14.
01. 2022
Developer: