Is It Golf
Approved for all ages
Is It Golf - hit with unusual objects!
Is It Golf is a fun golf game in which you can shoot many different objects into the hole under the target flag.
You will be surprised what you can golf with! A toilet, sheep, a car or even a fence can all be carried to the target in Is It Golf.
Use your mouse or finger, drag it in a direction and determine how strong the shot will be. Then release the mouse button or finger to hit your first shot. Do you always have the right target in mind? Or will it change just before the decisive stroke? Sometimes you need to be patient and change direction at the right moment so that your new golf ball doesn't go astray. Overcome numerous obstacles on your way to the flag and play the funniest golf game of all now!
More fun sports games for golf fans
If you liked Is It Golf, why not play Shaun the Sheep: Baahmy Golf?
Now get on the green! Play Is It Golf free online on KibaGames!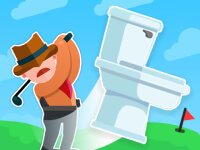 Is It Golf
Originalname:
Game Hits:
0
Online since:
07.
11. 2022
Developer: