Kings Clash
Approved for Ages 12+
Kings Clash - let's go to battle!
Kings Clash is an exciting battle game in which you can fight for castles and glory!
In Kings Clash, the goal is to prove the strength of your medieval army. At the beginning, you'll only have a small troop with simple equipment at your disposal. You send them into direct combat against enemy soldiers. After each round you win, you'll receive coins for your victory, which you can then use to buy new units. If they are similar to the existing unit, you can merge them to get a more advanced unit. This is better in quality and has modern equipment. If before they didn't have armor to protect them, now your units have helmets and can take more blows, but also deal them out.
How to play Kings Clash
The units are divided into ranged fighters and melee fighters. At first your ranged fighters are simple archers, which become stronger and stronger by merging more and more and can also receive the most modern weapons.
Before each battle you can buy new units and determine their position on the eight fields.
After three battles you'll have to face a mini-boss and in the end capture an entire castle.
Once you've completed the first world, many more await you. The environment with flora and fauna changes. The second world, a desert world and other exciting worlds are waiting to be conquered.
From world two on, there is a Power Up that is always activated. This Power Up charges up in the form of a bar and you can click on it to recruit a single soldier who is instantly ready to fight and fight for you. Use this ability for even more combat power for your squad as a gamechanger!
More free fighting games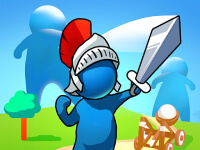 Kings Clash
Originalname:
Game Hits:
0
Online since:
24.
10. 2022
Developer: