Merge Blast
Approved for all ages
Merge Blast - defend your castle!
Merge Blast is a cool fighting game in which you have to defend your castle from enemy attacks with a cannon.
Defend your castle and upgrade your cannon to deal with the more difficult conditions of the harsh environment. Stones of a certain value will fall on your castle from above, in order to break down the castle walls and conquer your castle. Of course, you want to prevent this from happening, so you use a simple cannon. With it you have to shoot at the stones and hit them as often as the value indicates.
Controls: Hold down the left mouse button and move the mouse back and forth to shoot. Wipe mobile with your finger. While doing so, also use the edge to shoot over the rail and defend yourself against the enemy stone bombardment.
Tips and tricks - merge your guns
You can take ten hits, which are represented by hearts at the bottom. You have five hearts at your disposal, and each hit from the stones subtracts half a heart. Your projectiles bounce off the wall and can still score a hit and save you from the attacks again. 
However, as time goes by, your opponents in the 25 levels become more aggressive and throw more stones, even at the same time, at your walls and additionally they need more hits. 
So you need to upgrade as well. The gold coins you win from the previous battles can be used to buy new cannons. Then, when you merge them, you'll have a new and improved cannon to fight off your opponents. 
After you have mastered level 5 and level 10, you should also put an additional cannon on each of the two watchtowers.
Every now and then you will see a balloon with a box floating by in the sky next to the rocks. Try to shoot them down, because in them you can usually find a bonus like coins, crystals or even skills. However, you can only uncover a certain number and you don't know beforehand what you'll get. For example, the skill from the boxes can be a one-time ice spell, which will then freeze the stones for a short time, allowing you to destroy them quickly.
More shooting games with epic cannon battles
If you liked Merge Blast, why not play Cannon Balls 3D?
Can you save your medieval castle? React quickly like a real knight and play Merge Blast free online on KibaGames!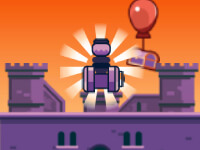 Merge Blast
Originalname:
Game Hits:
0
Online since:
17.
10. 2022
Developer: