Headphone Rush
Approved for all ages
Headphone Rush - listen to music from different years!
Headphone Rush is a musical skill game in which you can collect years or months with your headphones and listen to the music from the year whose year you have collected at the finish line.
The gameplay is probably already familiar to you from other Rush games or apps. Cross gates in front of you on the race track with time periods such as years, months, weeks or days and decide which number is better. Is 120 weeks better than a year or worse? So some math skills and a good head for numbers are very much needed in Headphone Rush. Green goals are generally better than red ones, because a period of time is deducted from them. Don't miss the notes between the goals either and grab the surprise boosters. Maybe you'll find some new headphones?
At the finish line you'll find out which year you made it to and you can choose one of two typical music styles and listen to a melody that goes with it.
Start in 1895 and use your winnings from previous rounds to buy more years, so you can quickly reach modern music eras.
Tip: Headphone Rush should definitely be played with sound so you can hear the music!
If you liked Headphone Rush, why not also play Money Rush and Dressing Up Rush?
Let the most beautiful melodies and cool songs sound now and play Headphone Rush free online on KibaGames!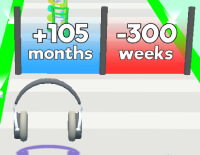 Headphone Rush
Originalname:
Game Hits:
0
Online since:
23.
08. 2022
Developer: