Greek Gods
Approved for all ages
Greek Gods - Style the beautiful Aphrodite!
Greek Gods is an enchanting dress-up game in which you'll be able to dress the character of Aphrodite according to your own ideas.
Aphrodite is the Greek goddess who stands for beauty and love like no other. In this dress-up game, your objective is to realize your own image of the goddess. To do this, first choose from different hairstyle options. For example, use wavy and curly hair or a hairstyle that is set in braids. Which bangs will suit your hairstyle best? Also choose a hair color and decide on the appropriate facial expression for the goddess.
After you're done with the face, you can choose the right one for your goddess from a variety of tunics. Play with loose fabrics that fall beautifully in folds and bring out the natural beauty of the Greek goddess. You can combine the tunic, also called a chiton, with scarves that are easily wrapped around her body or that Aphrodite can wear loosely over her arms.
Jewelry should not be missing on a divine lady, as well as a distinctive attribute as an accessory. For example, use a dove or a lyre. If you are interested in the ancient Greek deities and English is not a problem for you, you can get instructive information about the twelve gods and their attributes in the start screen under "Twelve Gods Illustrations". But even if you are not so proficient in English, you can find beautiful illustrations of the twelve canonical Greek gods to look at.
More interesting dress up games about fashion history
If you liked Greek Gods, why don't you play Viking Woman and Jewel of the Nile.
Choose noble clothes for the goddess now and play Greek Gods free online on KibaGames!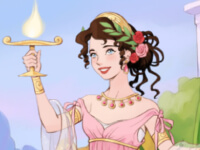 Greek Gods
Originalname:
Game Hits:
0
Online since:
30.
11. 2022
Developer: