Jewel of the Nile
Approved for all ages
Jewel of the Nile - style an Egyptian queen!
Jewel of the Nile is a cool dress-up game in which you'll be able to dress and style a young queen of Ancient Egypt.
First create the outer appearance and facial features of the ancient noblewoman. Then, drape many different layers of fabrics to create a magnificent robe, using different dresses, stoles and flowing capes. With a belt, which may also be decorated with gold, you can hold the fabrics together. A queen in ancient Egypt also had many different pieces of jewelry and a stately headdress.
Match the hairstyle to the various headdresses, some of which could only be worn by a person of the rank of pharaoh. With earrings, necklaces and bracelets, the queen can also shine. Other accessories of the time like a fan made of ostrich feathers or a leopard skin can also be found in the selection. Then place the Jewel of the Nile in front of a suitable background like the walls of a palace or a wall with hieroglyphics or just a colorful background.
Create a new beautiful avatar in the style of a female pharaoh now and play Jewel of the Nile free online on KibaGames!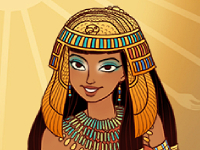 Jewel of the Nile
Originalname:
Game Hits:
0
Online since:
06.
05. 2022
Developer: