Football Brawl
Approved for all ages
Soccer Brawl - Football with the Kicking Heads!
Soccer Brawl is a cool soccer game in which you can fight with the kicking heads for the most goals and get in the mood for the upcoming World Cup!
Just in time for the 2022 World Cup in Qatar, the funny cephalopods are kicking for victory again!
In Football Brawl, first play through a tutorial that explains the controls. Don't worry: The controls are displayed at the bottom of the screen all the time during a match.
Controls: You use A and D to move from left to right. With H and J you can shoot high and low balls, and with J and K you can use a special ability that you have to equip beforehand.
Score as many goals as possible to win money and have a lot of fun on the soccer field. You can use your winnings for booster packs and collect equipment, accessories or skins with the help of these packs. Remember to actually select your new equipment like shoes, scarves and caps under the "Equipment" section for your player. They will improve your footballer's stats and can give you a decisive advantage in the match. Also, complete other tasks to earn additional coins. For example, score a certain number of goals or win matches. In this tournament you can expect a lot of challenges and chances to have fun for a long time!
More entertaining soccer games for you
If you like Football Brawl, why not play Real Football Challenge?
Aim, shoot, score goals! Fight for victory on the pitch again and play Football Brawl free online on KibaGames!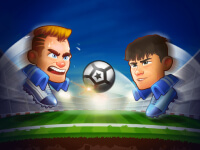 Football Brawl
Originalname:
Game Hits:
0
Online since:
21.
11. 2022
Developer: