Fireboy and Watergirl 2
Approved for all ages
Fireboy and Watergirl 2 - explore the Temple of Light!    
Fireboy and Watergirl 2 is the second part of the popular game series, in which you can uncover the secrets of the Temple of Light in pairs.    
After Fireboy and Watergirl have explored the Forest Temple and collected its treasures, they go exploring again. In Fireboy and Watergirl 2, this time it's the mysterious Temple of Light that beckons with its secrets, dark chambers and many new diamonds.    
Experience a great mix of jump and run and brain teaser with lovingly drawn graphics and cute game characters.    
How to play Fireboy and Watergirl 2 
Once again in Fire and Water 2 the game characters can be used in 2 player - 1PC mode. Control the friendly water girl again with the WASD key combination and the cute fire boy with the arrow keys.       
You already know many game elements - here is a reminder:    
As in the first part, the two elements can't walk on each other's surfaces.  
Fire has to jump over water surfaces and water over fire surfaces. 
Bubbling green slime is dangerous for both.  
You must collect the gems in the color of your respective character and the coveted green diamond.    
Tips and tricks - how to bring light into the darkness    
New in Fireboy and Watergirl 2: There are levels without light.    
Pay attention to where you run. 
Light beams from large light modules make your way easier.  
The yellow and blue beams are harmless to Fireboy and Watergirl. So you can run through them on your way through the light temple.  
Use these light beams to move platforms and mirrors or switches to direct the light beams in the right direction.  
Note that you can only move light modules with switches of the same color.   
More great Jump and Run games
If you want to get to know more parts of this great game series, discover the many great levels of Fireboy and Watergirl 4 and Fireboy and Watergirl. Work together in this multiplayer game and master this adventure as a team as well.    
Run, jump, puzzle - play Fireboy and Watergirl 2 free online at SpielAffe.de and discover the wonders of the Temple of Light!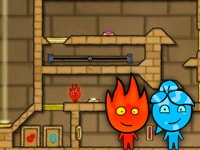 Fireboy and Watergirl 2
Originalname:
Game Hits:
3.945
Online since:
11.
11. 2010
Developer: