Fireboy & Watergirl 6: Fairy Tales
Approved for all ages
Fire and Water 6: Fairy Tales - experience new adventures in the Fairy Temple!    
Fireboy and Watergirl 6: Fairy Tales is an exciting adventure game with your favorite heroes, in which you lead them through a new dungeon and this time you can even count on the help of fairies!    
Play again together with a friend at a keyboard or take on the new adventures in 30 exciting levels on your own. As always, your goal is to play through a dungeon full of obstacles with Fireboy and Watergirl.     
In best Jump and Run style you can collect all the diamonds to reach the high score and you should not touch the liquids of the other element. 
And in this new temple, there are even little glowing will-o'-the-wisps waiting for you to clear your way.    
How to play Fireboy and Watergirl 6: Fairy Tales
As in all games of the popular series, in Fireboy and Watergirl 6: Fairy Tales it is important that the two characters coordinate their actions well and that you work together as a team.    
Control Watergirl with WASD and Fireboy with the arrow keys. 
Fireboy and Watergirl can each run through their assigned element in the form of lava or water, but not the other's. They are both killed by the green slime, so this is where both game pieces must jump across. 
Collect all the red diamonds with Fireboy and all the blue diamonds with Watergirl.  
To move platforms or open doors, use tools like the lever, which stays in the position you put it in, or the switches, which you have to keep depressed to make them do their job.  
You'll be able to move boxes and other obstacles and use them as springboards.  
As always, reach the end of the level and place Fireboy and Watergirl next to the doors of their respective elements to pass through to the next level. 
If you are especially fast at this, it will give you extra points!    
Tips and tricks - use the power of fairies!    
In this dungeon, Fireboy and Watergirl have magical help!    
Click on the small. glowing fairies that buzz around in the corridors of the temple and drag them to the golden fairy portals. They will then open the next pathway for Fireboy and Watergirl.  
Sometimes fairies are wanted in special colors, which you have to unlock first. Pay attention to the color of the gem on the portal you want to use for your treasure hunt.    
More Fireboy and Watergirl games for you    
If you liked Fireboy and Watergirl 6: Fairy Tales, why don't you play Fireboy and Watergirl, the first part of the game series, and explore all the temples in Fireboy and Watergirl 5 Elements?     
And now, on to new exploits! Experience hours of fun in two-player mode and play Fire and Water 6: Fairy Tales together for free online on Kibagames!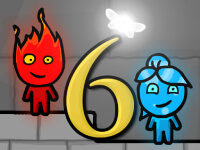 Fireboy & Watergirl 6: Fairy Tales
Originalname:
Game Hits:
2.025
Online since:
07.
10. 2021
Developer: