Fireboy and Watergirl
Approved for all ages
Fireboy and Watergirl - conquer the dungeons together!   
Fireboy and Watergirl is a great adventure game and the first part of the game series, in which Watergirl and Fireboy experience their first adventures in the enchanted Forest Temple. 
The temple complex is a vast labyrinth somewhere in the jungle and is full of secrets, treasures and dangers!    
Fireboy and Watergirl allows 2 players to play together - each player controls a character to run and jump with. Together you will explore the eerie dungeons of the ancient walls and collect many sparkling gems. Many exciting levels full of action and challenging tasks await you!    
How to play Fireboy and Watergirl
You can recognize the level type in your main menu map by the shape of the different crystals:   
In levels with the black gemstone with a lot of facets, you have to get to the exit as fast as possible and collect as many diamonds as you can.
Levels with the triangular stone are very similar, but you'll have to move both characters simultaneously.
In levels with the diamond-shaped gem, your goal is to find the green diamond and then reach the doors to the next levels.
Controls: 
You control the brave water girl with the WASD key combination and the brave fire boy with the arrow keys. This way you can play Fireboy and Watergirl on one keyboard and create a great collaborative experience. You can get to the next level by standing in front of your character's door.    
Tips and tricks - how to master the levels in a team    
In this cool jump and run game, there are other things to keep in mind. With these tips and tricks you will definitely make it through the levels of the temple complex:     
Fireboy must not come into contact with the blue water play areas.
Watergirl must not come into contact with the red fire play areas.
Green slime will kill both game pieces. Jump over these puddles together.  Flip switches to make your way and move play surfaces.  If the switch stays in one place, the play area will also stop moving and the second character can enter it.  But buttons must be kept pressed - your cooperation is especially needed here!
You can also move objects to build bridges or use them as springboards, for example. Collect several diamonds at once and pay attention to how much time you need for a level. In Fireboy and Watergirl, all your skills and your will to cooperate are needed.
Use the right tactics and puzzle your way through this action-packed brain game as a team. You won't encounter monsters and other creatures with a little luck. Together you'll crack the high score!
More adventures with Fireboy and Watergirl     
If you want to experience more adventures with Fireboy and Watergirl and their crystals, then play Fireboy and Watergirl 4 and the next part of the game series: Fireboy and Watergirl 2.    
Get excited and dive together into the mysterious worlds full of energy crystals and other treasures - are you ready?    
Now it's time to play! Make your way through the dungeons together and play Fireboy and Watergirl online for free on Kibagames!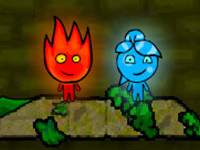 Fireboy and Watergirl
Originalname:
Game Hits:
32.951
Online since:
19.
12. 2009
Developer: