Dino Grass Island
Approved for Ages 6+
| | | |
| --- | --- | --- |
| Hinweis: Wenn ihr keine zusätzliche Werbung sehen möchtet, die euch einen Bonus gibt, klickt auf den unteren, violetten Button "Claim" (ohne Ad Symbol), wenn ihr ein Level beendet habt. | | |
Dino Grass Island - Train little dinosaurs!

Dino Grass Island is a cool fighting game where you can tame little dinosaurs and let them compete against each other!
Start by harvesting grass with a big sickle, then exchange it for gold coins in the wooden hut to attract the newly hatched dinos! This way you get a dinosaur that you can train to fight against other primeval lizards.
The game is controlled with the mouse or finger. Hold down the button or finger and move it in the direction you want your character to move.

Also harvest the grass on the island and sell it for money. With the money you earn, you can level up the cute little animals in Dino Grass Island so that they are ready for the battles. It is important to improve the HP values, i.e. the life points, the attack or the defence of your little companion. With the cut grass you can not only earn money, but also open up new land and thus travel from grass island to grass island. Only if you defeat the bosses in each level will you get to the next island, so do your best! Many exciting adventures and new duels with the primeval giant lizards await you there!
More interesting 3D games where you can harvest resources
If you liked Dino Grass Island, why not play Crowd Lumberjack and swing the axe!
Become the best animal tamer and play Dino Grass Island free online on KibaGames!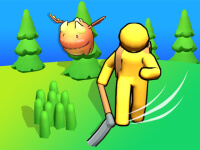 Dino Grass Island
Originalname:
Game Hits:
0
Online since:
07.
02. 2023
Developer: