Crowd Lumberjack
Approved for all ages
Crowd Lumberjack - Rode your way free!
Crowd Lumberjack is a cool building game in which you'll be able to explore and populate uninhabited islands.
Be there when a new civilization is born! Start as an adventurer and sail to a first unknown island. First build a main building there and find people willing to help you cut down trees. Your logging crew will have to clear a lot of forest with their axes to make room for settlements and agricultural land. With the wood thus obtained, you can then build the first huts into which the first inhabitants of the newly settled land can move.
How to play Crowd Lumberjack
Swipe the screen or use WASD to let the stickmen lumberjacks run through a huge world and cut down lots of trees.
Whenever you've given settlers a house to live in, you'll get coins for it, which you can use to upgrade the abilities of the main buildings.
Also get more power to mine resources, more workers or make the logging troop faster.
After you have worked a first area, you'll get a compass with which you can discover new parts of the island and continue the familiar settlement process.
Then build other useful buildings, such as a sawmill to convert the raw wood into wooden boards.
After you have completely cultivated the areas of an island, you travel to a new island. On other more or less large islets you can mine not only wood, but also stones and thus construct new and larger buildings. Can you build the city of your dreams?
Another tip: In the main menu you can buy new skins for your figures, the ship and the axes by clicking on the gear icon.
More exciting building games
If you liked Crowd Lumberjack, why not play God Simulator?
Get your hardworking team together now, swing your axe and play Lumberjack Squad free online on KibaGames!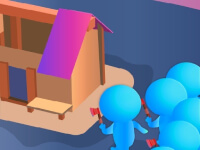 Crowd Lumberjack
Originalname:
Game Hits:
0
Online since:
19.
12. 2022
Developer: