Couple Rich Rush
Approved for all ages
Couple Rich Rush - collect money together as a couple!
Couple Rich Rush is a fast hyper casual game in which you'll be able to make a couple collect money and decorate their house together.
Your task is to make the couple collect as many bills as possible on the course in front of them and bring them to the finish line. During the run, you can have the money switch back and forth between the husband and wife. This is necessary so that they can increase the amount by passing through green gates. Pass the money quickly when a red gate or another obstacle like a tree trunk appears on the race track, because money is lost here!
Desktop controls: Mouse click + drag/hold
Controls Mobile: Swipe/Swipe with finger
Don't waste the money too much on eating and drinking, use it for furnishing and decorating the house you share. To decorate, you can also unlock items on the property around the house and unlock and decorate furniture in various rooms in the house itself. To do this, you can click on the house and then use the "Enter House"-Button.
More free reaction games with exciting tasks
If you liked Couple Rich Rush, then play Money Rush and Muscles Rush.
Teamwork is rewarded! React at the right moment, make the couple work together for their fortune and play Couple Rich Rush free online on KibaGames!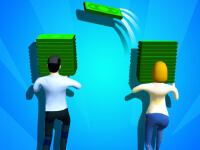 Couple Rich Rush
Originalname:
Game Hits:
0
Online since:
04.
11. 2022
Developer: