Muscles Rush
Approved for Ages 6+
Muscles Rush - win with the bodybuilder!
Muscles Rush is a fun skill game where you can prove who has the bigger muscles!
Fighting head-to-head against three other opponents, you start as a lanky athlete and then collect dumbbells as fast as you can on a race track to build up muscles in no time.
Controls: You can control with the mouse, the WASD keys or the arrow keys or your finger.
In this race, overcome a course and numerous obstacles faster than your challengers to become the strongest athlete of the round. Push a big mat out of the way, swim the fastest through the water or cycle the fastest on a tricycle. Pay attention to your color here so you don't lose your bearings.
Tip: If you have collected more dumbbells than your opponents and are therefore stronger than them, you can run them over and make them lose their collected strength. This may not show the right sportsmanship, but it will give you enough of an advantage over your competitors.
Before each level, you can also use your prize money to get skins for your muscle hero or for the dumbbells.
More fun sports games for fitness fans
If you liked Muscles Rush, why not play Douchebag Workout and train a leek to become a fit athlete?
Weight training and endurance training in one! Don't miss this new fungame for bodybuilders and play Muscles Rush free online on KibaGames!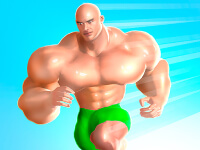 Muscles Rush
Originalname:
Game Hits:
0
Online since:
25.
10. 2022
Developer: