Christmas Mysteries
Approved for all ages
Christmas Mysteries - search through Christmas hidden object pictures!
Christmas Mysteries is a Christmas hidden object game in which you'll be able to search for objects and differences in wintry pictures.
In these atmospheric hidden object pictures, the goal is to find different objects, numbers and letters in a given time. Find gingerbread men, Christmas trees, Christmas tree decorations and much more! Even if it doesn't snow at home, you can immerse yourself in a snowy winter landscape full of festively decorated houses.
The game is played with the mouse or the finger. Click or tap on the objects you are looking for in the large wintry picture. Also there are levels where you have to find the differences between two pictures and mark them on a picture. Be sure to stay within the time limit. If you click in the wrong place, you will get five seconds deducted!
You can even zoom into the beautiful winter pictures by holding the mouse down. At the bottom right you will find a magnifying glass icon, here you can get help. A randomly searched object is highlighted by the magnifying glass.
More beautiful hidden object pictures for you
If you liked Christmas Mysteries, then play Hidden Object Hello Winter.
Find the most beautiful presents and sweet treats now and play Christmas Mysteries free online on KibaGames!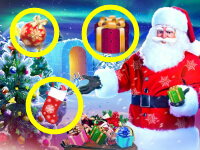 Christmas Mysteries
Originalname:
Game Hits:
0
Online since:
08.
12. 2022
Developer: