Bowling Challenge
Approved for all ages
Bowling Challenge - Clear all the pins!
Bowling Challenge is a new sports game in which you can clear all the pins in bowling!
Play through two modes: level mode and endless mode.
You control Bowling Challenge with your mouse or finger. You can swipe briefly or draw the path the ball should take in a controlled way.
In the level mode you have different levels with tasks that you should fulfill. Overcome obstacles and time them exactly to clear moving cones. At the beginning, the levels are easy, but the difficulty increases the further you get. In endless mode, pins come driving into the screen from the top of the screen and you must clear them all. If a pin crosses the line by your bowling ball, the game is over. Obstacles are added here as well, so aim extra precisely and win a coveted trophy with a little luck and skill!
More bowling games online
If you liked Bowling Challenge, then play Bowling Hero Multiplayer.
Now let the bowling ball roll again and play Bowling Challenge free online on KibaGames!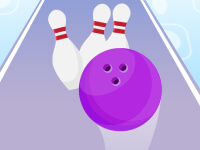 Bowling Challenge
Originalname:
Game Hits:
0
Online since:
23.
01. 2023
Developer: