Boboiboy Galaxy Run
Approved for Ages 6+
Boboiboy Galaxy Run - save the galaxy with superpowers!
Boboiboy Galaxy Run is an exciting action game in which you can run and jump as long as you can with a young superhero and compete against nasty space robbers.
BoBoiboy needs your support to overcome as many bad guys as possible on his way to a new galactic track high score.
Controls: You control with your mouse or finger. Tap or click to jump and tap or click twice for a double jump. If you want to get from a platform to the lower floor, swipe from top to bottom. To shoot, you can use a space pistol that fires automatically when Boboiboy sees an enemy.
Also, collect the released energy to be able to launch a special attack. When the energy meter is full, swipe from left to right and perform the attack.
Lightning crystals that you find along the way will allow you to buy new skins and new heroes later. As you play, you can earn Achievements, which will also earn you Lightning Crystals. For example, defeat a certain number of enemies or perform certain movements during the missions. Many exciting challenges await you in Boboiboy Galaxy Run with the Malaysian series hero!
More jump and run games for you
If you like Boboiboy Galaxy Run, why not play Fall Friends?
How far can you run and jump? Find out now and play Boboiboy Galaxy Run free online on KibaGames!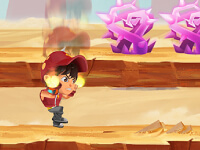 Boboiboy Galaxy Run
Originalname:
Game Hits:
0
Online since:
21.
04. 2023
Developer: