Berlin Hidden Objects
Approved for all ages
Berlin Hidden Object - Search fun in the German capital!
Berlin Hidden Object is a fun hidden object game in which you'll be able to find wanted objects on 10 pictures from the capital.
Search for objects and letters in famous places in Berlin. Objects, letters and numbers are hidden in 10 levels showing famous landmarks in Berlin like the Brandenburg Gate or the Bundestag. Can you find them all within the time limit?
Hold down your mouse or finger to zoom into the picture and then feel free to move it left and right. If you get stuck, you can click on the light bulb at the bottom right and select the object you need help with. But don't click around wildly, because then 5 seconds will be deducted from your available time.
Other interesting hidden object games
If you liked Berlin Hidden Object, then play Christmas Mysteries.
Browse the sights of the capital and play Berlin Hidden Object free online on KibaGames!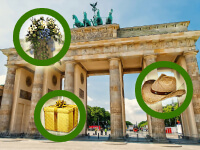 Berlin Hidden Objects
Originalname:
Game Hits:
0
Online since:
29.
12. 2022
Developer: