Awesome Run 2
Approved for Ages 6+
Awesome Run 2 - Win in the hurdle race!
Awesome Run 2 is a great sports game from the Flash Games era in which you'll be able to compete in hurdling and win against your competitors!
Become the best competitive athlete and compete against your rivals in hurdling. Play with your mouse or finger and follow the instructions on the screen. Run, change lanes, jump over hurdles and collect power-ups that will help you prevail against the other sprinters. Isodrinks, for example, can replenish your stamina and make you a little faster. Maybe things are not fair here, so be alert and don't get pushed off the track!
More exciting online games for fast running talents
If you liked Awesome Run 2, why not play Mob Control or Vex 7?
Jump over any hurdle, conquer the winner's podium and play Awesome Run 2 free online on KibaGames!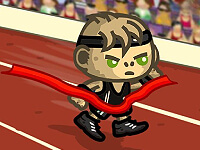 Awesome Run 2
Originalname:
Game Hits:
69
Online since:
20.
03. 2023
Developer: