Mob Control
Approved for Ages 6+
Mob Control - Win with the biggest group!
Mob Control is a fast-paced mini-game in which you send out a growing horde of stick figures to capture the enemy bases.
Play the free online game to the popular VOODOO app now without downloading!
Use your mouse or finger. Hold it down to shoot stick figures, or use your finger to select a side to run your stick figures on.
Shoot stick figures with your cannon, let them run and multiply them by the blue gates they cross. The value by which the number of your stick figures is multiplied will be shown to you beforehand. Avoid letting the stick figures pass through red gates, as they will reduce your attack power. Take different bases with your gang to triumph over your opponents. As you send your stick figures into battle in Mob Control, an attack bar charges up. When you release it, you'll fire an especially powerful stick figure. Overpower oncoming groups and be careful not to get overrun yourself.
More free casual games
If you enjoyed Mob Control, why not play Stacky Dash 2?
Don't miss this new hit game from the Play Store and play Mob Control free online on KibaGames!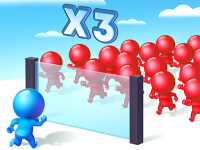 Mob Control
Originalname:
Game Hits:
0
Online since:
03.
02. 2023
Developer: