Vex 7
Approved for Ages 12+
Vex 7 - Overcome all traps!
Vex 7 is an action-packed platform game in which your stickman must survive all levels unscathed!
Prove your reaction speed and control your stickman with the arrow keys, WASD or with your finger over the corresponding buttons on your screen. In the challenging levels you will be tested again and again and have to face numerous chasms, saw blades, thorns and spikes or other dangers. Jump or slide with skill and let the tutorial explain the basic controls and the handling of the various game elements to you at the beginning. For example, purple blocks fall down, while yellow blocks give you a jump boost.
In Vex 7, also use the wall jump, where you have to jump from wall to wall to get higher. Checkpoints save your progress in the level so you don't have to keep starting over when your stick figure goes Game Over. Or can you even manage to finish the levels on your first try?
More fast paced jump and run games for you
If you liked Vex 7, you should also try Cat Runner or Rabbids Wild Race!
Start the latest installment of the popular game series now and play Vex 7 free online on KibaGames!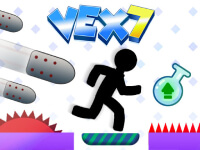 Vex 7
Originalname:
Game Hits:
0
Online since:
17.
02. 2023
Developer: