Animal Jump
Approved for Ages 6+
Animal Jump - Let the deer and elephant fly!
Animal Jump is a fun skill game where you can fly your animal to the finish line and leave your opponents behind!
Fly your animal to the finish, collecting coins and avoiding obstacles like snowmen. Compete with the other animals for first place! But wait a minute, a deer can't actually fly! You'll have to kick its butt to make it fly - don't do it at home!
How to play Animal Jump
Control your character in Animal Jump with the mouse, keyboard or finger to the left and right.
To start, you can select the strength of the kick on the scale.
Click when you are in the green area in the middle and your animal will fly away.
After that, try to make the animal land on the yellow trampolines when it heads back towards the ground, so that it flies up again.
On the way to the goal, collect golden coins that you can use to buy boosters, upgrade them and improve your stats. You can also unlock new animals, such as an elephant or a flamingo, and more game environments through the store. You start in a winter landscape, but the desert also has its charm. There you'll have to dodge cacti and fly past large palm trees.
Tips and tricks - How to win the challenge!
Sometimes there are clouds in the air, which you can use as a trampoline to fly longer and collect more coins. When you fall down again, make sure you don't hit any obstacles, but aim carefully to catch a trampoline again. On your way through Animal Jump there are also useful bonuses like the magnet or the rocket. Don't miss them!
More fast fun games for you
If you like Animal Jump, why not play Snow Fun?
Will you be the first animal to reach the finish line? Find out now and play Animal Jump online for free on KibaGames!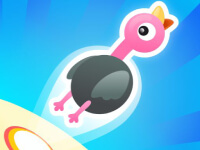 Animal Jump
Originalname:
Game Hits:
0
Online since:
17.
01. 2023
Developer: