Snow Fun
Approved for all ages
| | | |
| --- | --- | --- |
| Hinweis: Wenn ihr keine zusätzliche Werbung sehen möchtet, die euch einen Bonus gibt, klickt auf den unteren, weißen Schriftzug (ohne Ad Symbol), wenn ihr ein Level beendet habt. | | |
Snow Fun - Clear away the snow!
Snow Fun is a winter fun game in which you can shovel snow with a stick figure!
Winter is just around the corner and has brought lots of snow with it! Besides snowball fights, this also brings the danger of falls and stuck cars. So you better clear away excess snow in Snow Fun and make the sidewalks or front yards safe.
Your stickman has to clear a certain area of snow in each level. At the top, a bar shows you how far you've cleared and how much you still have to clear. Once you have successfully filled up the bar and removed enough snow, you get coins and can use them to upgrade your character's abilities or your tools. So you can increase your shovel, get more money or run faster.
Controls: Hold down your finger or the mouse and steer your character over the plots and squares in such a way that it takes as much snow as possible in one go onto the snow shovel. The snow rolls up here and the bigger the roll, the better. Try to find good routes to shovel up as much snow as possible in one go.
More fun minigames for winter
If you liked Snow Fun, why don't you play Snowball.io?
Keep yourself safe on the snowy trails and play Snow Fun free online on KibaGames!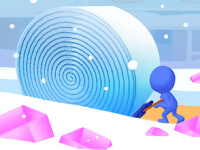 Snow Fun
Originalname:
Game Hits:
0
Online since:
30.
12. 2022
Developer: