Zen Cube 3D
Approved for all ages
Zen Cube 3D - find cute trios of cubes!
Zen Cube 3D is a cool puzzel game based on the match 3 principle, in which you can clear a cube with colorful tiles.
Always match three tiles with the same motif at the bottom of the tray bar. It doesn't matter in which order you place up to seven tiles there. The main thing is that they can form a trio to make room for the next tiles. Play with the mouse or by tapping and let the Zen Cube rotate once to get a better overview. You should also be able to cope with the time limit.
In higher levels, use boosters that automatically find three matching tiles, for example, to give you an advantage. For your successes, you can regularly unlock new motifs and other rewards. Will the treasure chest fill up quickly?
More Match 3 games for you
If you like Zen Cube 3D, why not play Candy Riddles or Forest Match 2?
Find cats, ice cream and bicycles now and play Zen Cube 3D free online on KibaGames!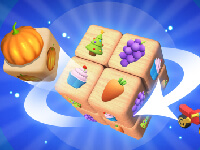 Zen Cube 3D
Originalname:
Game Hits:
0
Online since:
28.
08. 2022
Developer: