Forest Match 2
Approved for all ages
Forest Match 2- connect berries, nuts and co.
Forest Match 2 is the second part of the popular Match 3 series, in which you can connect lots of fruits and plants of the forest.
Connect lots of berries, flowers and nuts in over 3000 new levels! Enjoy hours of fun while playing and always connect at least three of the same treasures of the forest. With four horizontal or vertical chains you can create row or column breakers. Cross-connecting vertical and horizontal groups of three earns you the Cross Power Ups. With chains of five, you can score spiral bombs that can take an entire color out of play.
Combine plants that are dirty to get them clean again and face many other challenges and special tasks in Forest Match 2. Of course, you only have a limited number of moves to do this. How good that you can unlock the boosters on the right side. Switch berries and flowers, destroy plant tokens with your axe, or buy new moves with the coins you win. Daily gifts reward all players who consistently stay on the ball in Forest Match 2.
If you liked Forest Match 2, why not play Garden Tales or Candy Riddles? The first part of the series, Forest Match, also provides long-lasting entertainment.
Enjoy the tranquility of the forest, complete all the missions and play Forest Match 2 online for free on KibaGames!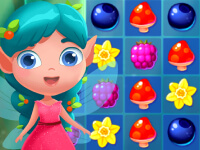 Forest Match 2
Originalname:
Game Hits:
0
Online since:
20.
08. 2022
Developer: