Yummy Ice Cream Factory
Approved for all ages
Yummy Ice Cream Factory - Prepare delicious ice cream!
Yummy Ice Cream Factory is a cute cooking game in which you'll be able to create delicious ice cream sundaes!
Spring is approaching and what better way to ring it in than with delicious ice cream? Create your own ice cream completely by yourself! Follow the instructions on your screen in several mini-games.  The game is played with the mouse or your finger. First, process the fruits you want your ice cream to taste like. After you've chopped the different types of fruit, you'll have to add other ingredients like water and sugar. Again, follow the instructions. The next step is to chill the ice cream so that it has a firm consistency. You can also complete this step with the help of the mini-game.
After you have prepared the ice cream, you can design the ice cream cone. Add fruits, sprinkles and delicious sauces and color the cone as you like. Wrap the cone in a nice paper to make it easier to hold later. Finally, you can put together a new outfit for your helper that is all about ice cream. How cute she looks!
More cooking games for kids
If you liked Yummy Ice Cream Factory, why not play Yummy Pancake Factory, because cooking and baking is fun!
Nut cup or banana split? Ring in the new ice cream season at the ice cream parlor now and play Yummy Ice Cream Factory free online on KibaGames!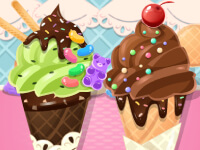 Yummy Ice Cream Factory
Originalname:
Game Hits:
0
Online since:
24.
03. 2023
Developer: