Yummy Pancake Factory
Approved for all ages
Yummy Pancake Factory - Make delicious pancakes!
Yummy Pancake Factory is a cute cooking game where you can make fluffy pancakes!
It's pancake time! Bake this delicious dessert in various mini-games. First gather the ingredients, because the right preparation is especially important. This includes flour, sugar, oil and also beating the eggs. Then you have to mix all the ingredients for the egg dish into an even batter. Bake the pancakes until they are fluffy and golden brown, and in the next step decorate them with fruit and cream as you like. Delicious!
Finally, you can dress up the little baker to match the theme.
More baking games with great recipes
If you liked Yummy Pancake Factory, why not try out Cake Master Shop?
These pancakes are a great way to start the day! Get your spatula ready and play Yummy Pancake Factory free online on KibaGames!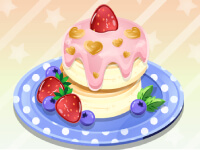 Yummy Pancake Factory
Originalname:
Game Hits:
0
Online since:
24.
02. 2023
Developer: