Winx Club: Dress Up
Approved for all ages
Winx Club: Dress Up - dress up all six fairies!
Winx Club: Dress Up is a quick dress-up game in which you'll be able to create a different fantastic outfit for all six Winx fairies.
Choose one six fairies and then click on the different outfit components until you choose the most beautiful and appropriate one. Bloom, Flora, Roxy or Musa like to wear tops and skirts made of flowers. Socks and shoes can then also be matched to the ensemble and complemented with necklaces and earrings. Of course, a pair of fairy wings belongs to a real fairy. Choose the enchanting glittering wings and complete the first level of Winx Club: Dress Up. After that, click the home button and choose the next Winx Club member to dress up as well.
More fantastic children's games with Winx Club
If you liked Winx Club: Dress Up, then play the following Winx games as well:
Don't miss this new lifestyle game with the graceful fairies and play Winx Club: Dress Up free online on KibaGames!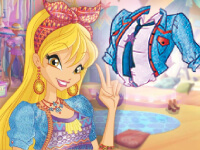 Winx Club: Dress Up
Originalname:
Game Hits:
0
Online since:
16.
09. 2022
Developer: