Winx Club: Baby Adventure
Approved for all ages
Winx Club Baby Adventure - run to the new magical high score!
Winx Club Baby Adventure is an exciting skill game in which you can run with the little fairies over a course to the new high score.
In one of the episodes of the popular Winx series, the fairies are turned into little babies and chased by their enemies Brafilius and Kalshara. Just like back then, in this new adventure the Winx run as babies over an infinite course and have to dodge lots of obstacles. Control the little fairies with the mouse or by tapping left and right to make them change tracks. Collect diamonds, dodge the sheep and wooden gates, and grab the various power ups on the track. They will help you set a new high score by serving as a shield or magnet.
If you liked Winx Club: Baby Adventure, then try playing Winx Club: Love and Pet.
Set a new personal high score on the magical tartan race track now and play Winx Club Baby Adventure free online on KibaGames!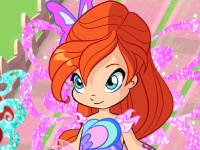 Winx Club: Baby Adventure
Originalname:
Game Hits:
0
Online since:
08.
08. 2022
Developer: