Volleyball Challenge
Approved for all ages
Volleyball Challenge - Win with a great smash!
Volleyball Challenge is an exciting sports game where you can score points on the volleyball court and even compete against real opponents!
Take on the Volleyball Challenge and attack and defend to score points against your opponents. Jump, serve, block and score points with good moves where you let the volleyball come up in the opponent's half.
You can compete against PC-generated opponents or play against your friends on a keyboard.
Controls: Use WASD and the arrow keys when playing with two players. Use C and the hash key (#) to serve. With V and comma you can jump.
With more experience you can also use special attacks. Charge them up during the match and then use them to turn the match in your favor. Use them with B and slash (/).
Over time, unlock different skins for your characters, use more superpowers and improve abilities like speed or motor skills. You'll also have a career mode after a few levels, in which you'll have to prove your skills. You'll also have the option to participate in various championships.
Other exciting sports games
If you liked Volleyball Challenge, why don't you play Awesome Run 2?
Are you a real volleyball ace? Find out now and play Volleyball Challenge online for free on KibaGames!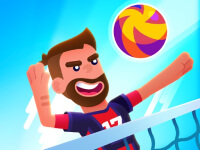 Volleyball Challenge
Originalname:
Game Hits:
0
Online since:
30.
03. 2023
Developer: